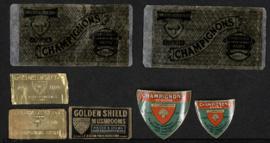 CA RBD MSG 1197
Fonds
1920-1950
The fonds contains the company's business correspondence related to the importation of food products, essences, and spices from international manufacturers, and other business expenditures, as well as some correspondence with government regulators regarding food labeling and quality. In addition, some letters are from charitable and cultural organizations to which the company donated. Some personal correspondence of Henri Jonas is included, as well as numerous restaurant bills and and menus, including for the Montreal Hunt Club.
Chiefly found is incoming correspondence with product suppliers and invoices for various services, including car repair, advertising, stationary, funeral arrangements, and photography. Suppliers include companies from France, Germany, Norway, UK, Italy, Sicily, Hungary, China, India, and Spain. Products include essential oils, soaps and luxury food products such as sardines, truffles, preserves, jam, Hungarian paprika, Chinese tea, olive oil, caviar, liqueurs, foie gras, sardines, and ketchup. Two Montreal-area manufacturers are represented, with a catalogue from Couvrette Sauriol Limitée (1937) and a brochure for the Stuart Brothers. Included is one letter from postwar France soliciting renewed a commercial relationship following the allied victory (Royal Champignon). There are also bulletins from and correspondence with, including one outgoing letter, the Canadian Department of Agriculture regarding quality and labelling of canned fruits and vegetables.
A few letters are personal in nature and addressed to Henri Jonas himself. There are also telegrams and letters from Canadian organizations such as the Pacific Railway Company, and Canadian societies and organizations to which the company donated money (Canadian Society for the Prevention of Cruelty to Animals, Montreal Orchestra, Hospital for Sick Children London, Salvation Army, McGill University Centennial Endowment).
Some of the company's advertising materials are also found, as well as food labels for products including mushrooms, wine, truffles, olive oil, sardines, and lemonade).
Henri Jonas & Co.