Showing 2 results
Archival description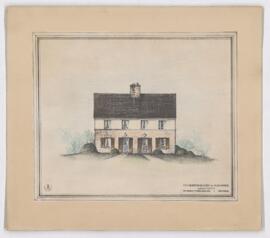 CA CAC 11.01
Fonds
1934-1940
"Architectural Drawings, 1934-40, 109 drawings." The thirteen projects documented by drawings include a house for T. Ross in Montreal, the Penguin Ski Club in St. Sauveur, PQ, a White Circle Market store on Decarie Blvd. in Montreal and a barn for A. D. Durnford in Nantel, PQ.
"Photographs, 1934-8, 18 photographs." Photographs of finished interiors and exteriors for ten projects, including the Ross house in Montreal, the Sir Arthur Currie Memorial Cross in Mount Royal Cemetery and Douglas Hall men's residence at McGill University, are found in the archive.
"Professional Papers, 1934-7, 8 cm." Correspondence, notes, specifications, clippings and contracts relating to the Penguin Ski Club, the Ross house, the Sir Arthur Currie Memorial Cross and three other projects are included in the archive.
"Dessins architecturaux, 1934-1940, 190 dessins." Les treize projets documentés par des dessins comprennent notamment la maison de T. Ross à Montréal, le Club de ski Penguin de Saint-Sauveur (Québec), un marché White Circle sur le boulevard Décarie à Montréal et une étable pour A. D. Durnford à Nantel (Québec).
"Photographies, 1934-1938, 18 photos." Photographies des finitions intérieure et extérieure de dix projets, notamment la maison Ross à Montréal, le monument à la mémoire de Sir Arthur Currie au cimetière du Mont-Royal et la résidence Douglas des étudiants de l'Université McGill.
"Documents professionnels, 1934-1937, 8 cm." De la correspondance, des notes, des cahiers des charges, des coupures de presse et des contrats se rapportant aux projets du Club de ski Penguin, à la maison Ross, au monument de Sir Arthur Currie et à trois autres projets.
Fetherstonhaugh and Durnford