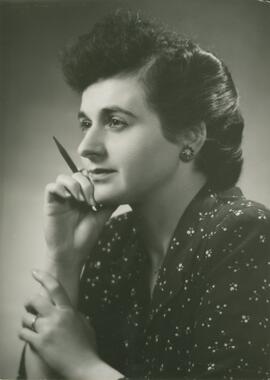 CA MUA MG4269
Fonds
1899-2009
The fonds chiefly documents Madeleine Parent's activities as a key union organizer and activist in Québec and Ontario, for the United Textile Workers' Union of America (UTWA), 1943-1952 and Canadian Textile Council (CTC), as well as the Canadian Textile and Chemical Union (CTCU), 1952-1983, through union documents, including minutes, resolutions, collective agreements, financial documents, and correspondence, as well as newspaper clippings, union/labour newsletters, union convention badges and photographs. The records of union activities include handwritten transcripts of the testimony at her seditious conspiracy trial 1947-1948, pamphlets and broadsheets concerning strikes at Dominion Textile in 1952, and Harding Carpets in 1956 as well as a photo album of her trip to China, 1960. The records also to a much lesser extent reflect her activities in the Council of Canadian Unions as well as the Confederation of Canadian Unions (CCU) through records of executive board and congress activities, chiefly 1973-1983 and her notes concerning labour school training sessions, 1977-1981.
The fonds also documents Madeleine Parent's social and political activism, especially in the years following her retirement from the union in 1983, through correspondence, speeches and lectures, newspaper clippings, minutes, agenda books, 1948-2009, telephone journals, 1990-2005, photographs, as well as audiotapes of interviews and speeches. There are records concerning her involvement in public campaigns concerning such issues as free trade, 1987, de-indexing of family allowances, 1985-1986, freedom of choice/abortion rights, 1986-1987, Charlottetown Accord, 1992 and the human rights case of Mary Pitawanakwat, 1994-1995. Some of these campaigns reflect her involvement in the National Action Committee on the Status of Women.
Also included are documents pertaining to her personal life including family documents, correspondence, biographical information, photographs, and diplomas.
This fonds also contains personal and labour-related writings, including articles, letters to the editor, book reviews, reports on union activities, notes on Canadian history, and correspondence of Kent Rowley, 1942-1975.
Parent, Madeleine, 1918-2012